Today we learned that seven of our friends were furloughed and/or lost their jobs. One of them has a chronic health condition and will be losing her insurance on Tuesday. It's really happening.

As a pastor and national faith leader, I've been considering what leadership in the Church looks like in the face of a global pandemic. What is our work to do? I come back to the book of Acts 2:

They committed themselves to the teaching of the apostles, the life together, the common meal, and the prayers. Everyone around was in awe – all those wonders and signs done through the apostles! And all the believers lived in a wonderful harmony, holding everything in common. They sold whatever they owned and pooled their resources so that each person's need was met. They followed a daily discipline of worship in the Temple followed by meals at home, every meal a celebration, exuberant and joyful, as they praised God. People in general liked what they saw. (Acts 2:42-47)

This week I hosted an online conversation with my colleagues Diana Butler Bass, Brian McLaren, Traci Blackmon and Jacqui Lewis on "What Will Happen to Our Churches?." During the conversation, as we were lamenting the disruptions to churches, Traci Blackman reminded us that there's an old saying in some African American communities: when white folks catch a cold, black folks get pneumonia. She went on to say that the way we get through this is that those who have salaried jobs and more stability have to look out for those who don't. We will need to be each other's keepers.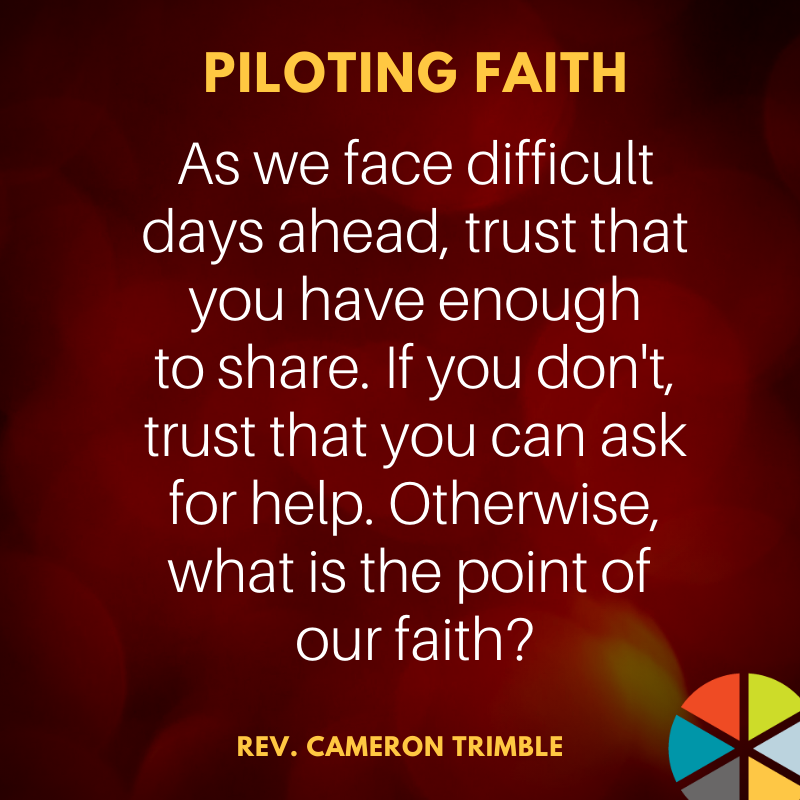 Her message is entirely counter-cultural to white communities. Our behavior suggests we believe capitalism to be the greatest religion. But when she said that to our group, every cell in my body knew she was right. She was reminding us of the early church in Acts. Ultimately, she was reminding us of the Way of Jesus.

As we face these difficult days ahead, I encourage you to trust that you have enough to share. And if you don't, trust that you can ask for help and your community will respond with love and generosity. If we can't do this very basic thing for each other – show up for each other in our times of greatest need – then what are we doing calling ourselves Christians anyway?

We are in this together.

Cameron