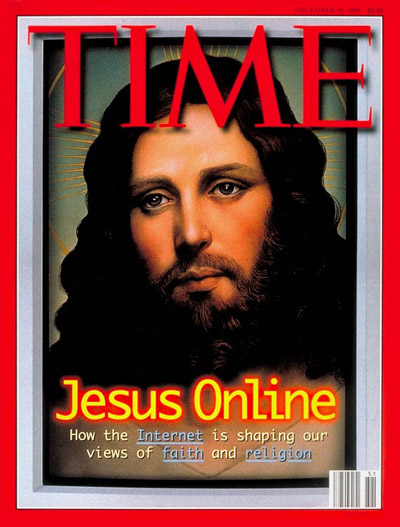 On Monday, December 16, 1996, TIME Magazine published a cover story by Joshua Cooper Ramos titled "Finding God on the Web." The article recommended that churches establish their presence online or else risk losing touch with many of their parishioners. Ramos concludes by recognizing that "we stand at the start of a new movement in this delicate dance between technology and faith."

Twenty-five years later we are continuing to embody this article as we close our buildings in response to the COVID-19 pandemic and have church online. While church online is not a new idea, it is a new experience for many pastors and congregations. Whether you're running a multi-camera livestream from your living room or you're still struggling to unmute yourself on Zoom, here are five frequently asked questions about church online:

1. Is church online real church?
Yes! Virtual is not the opposite of real. It's the opposite of physical. They are both real! When we gather online it is a real gathering. The stories we share and the connections we have, even when mitigated through a video call, a live chat, or social media posts, they are real connections. This doesn't mean that church online will replace church in person. But it can allow for greater access and engagement, especially during a time when we are unable to gather in person.

2. Is church online safe?
It can be. Just like our in-person gatherings, we must be aware of possible risks and gather in ways to ensure the safety of everyone. But to assume that it is not safe simply because it is online is to ignore the obvious steps that can be taken to ensure everyone's safety. Just like you wouldn't let anyone walk into a Sunday school class without the proper background check and approval, you shouldn't share the link to a gathering for children or youth in a public space. Send information like this directly to the people who need it and let the general public know to contact you if they would like more information. When it comes to online gatherings for adults, every gathering should have a leader who feels comfortable with the space and is able to respond to any problems or needs as they arise. Even better, have co-leaders for each group so that there is always someone to engage the group and someone to troubleshoot anything that needs to be addressed. (Yes, this advice should sound just as applicable to in-person gatherings as it does to online gatherings.)

3. Should we go live on Zoom or pre-record and schedule it as a YouTube or Facebook premiere?
It all depends on the experience you are hoping to provide, the technical ability of you and your team, and the online platforms your congregation is most comfortable with (or can most easily adapt to).
Zoom is great for small to medium-sized groups, allowing everyone to see and hear one another and even break into smaller groups. However, singing together on Zoom always feels like a less-than-ideal experience, requiring everyone to mute themselves and follow one song leader, and the quality of what people can see and hear will always be limited by the speed of your internet connection. (If you haven't yet seen the Zoom Church sketch on SNL, do yourself a favor and go watch it right now.)
Pre-recording a worship service and scheduling it to premiere on YouTube or Facebook can allow you to include a greater variety of participants and online content and greatly reduce the stress of praying that your internet connection is strong enough to go live in the moment. Your musicians can record the music, keeping it as simple a soloist accompanying themself or you can even produce a virtual choir with everyone singing from their own homes. Your sermon can be one person talking to the camera or could include a variety of media — images, videos, audio — whatever you feel comfortable editing together! You are able to create whatever your technical ability and time allow. Then on Sunday morning, you can join your congregation in the live chat rather, typing "Amen" and "Thanks be to God" just like everyone else, a unique experience for clergy who are used to leading everything from upfront and rarely being able to join the congregation for worship.
But perhaps most importantly, you should offer an experience in a way that is the best fit for your unique congregation. The best idea is the one that you can actually do and that your congregation will be able to engage. Just because someone else is doing everything on Zoom or producing a weekly virtual choir or going on Facebook Live from their living room doesn't mean that you need to. Do what works for you and your congregation. Then work at making small improvements every week (which is exactly what we should do in person as well!).

4. What else should we do besides a Sunday morning worship service?
A Sunday morning worship service is only just the beginning. You can use a video call platform like Zoom for virtual coffee hour, a morning prayer group, one-on-one or group check-ins, small groups, and Bible studies — the possibilities are endless! You might begin by migrating the in-person groups that your congregation is familiar with to this online space. But don't stop there. What new online-specific groups and gatherings can you create during this time?
Zoom is just one platform. You can create Bible study videos and upload them to YouTube and Facebook. You can create a devotional podcast for your congregants to listen to during the week. You can post prayers and encouragement on social media or curate a playlist on Spotify or spend a little time each day engaging with your congregants on social media. Making our Sunday morning worship service available online is definitely a good place to start. But it is just the beginning of what your digital ministry can look like.

5. Will church online go away when this pandemic is over?
The church was online long before this pandemic, and she will continue to exist online long after it is resolved. While your congregants will be eager to gather in person when it is officially safe to do so, chances are they will also want some of the online connections and content to continue as we all discover the ways they allow us to connect with one another and deepen our faith. Joshua Ramos said that 1996 was "the start of a new movement in this delicate dance between technology and faith." Twenty-five years later we all find ourselves forced onto the dance floor. For the sake of the future of the church, we must keep dancing, praying that God's kingdom comes and will be done online as it is in heaven.

Are you looking for resources to help you improve your online church and digital ministry content? Click here to see the latest online courses, webinars, and consulting that we have available. Be sure to check out our new Church Online: Individual Consultation that includes 3 thirty-minute 1-on-1 consultation sessions with a digital ministry expert to talk about what you can do to take the next step with your online church and digital ministry content.