By Rev. Timoth Sylvia
Earlier this year, we launched a new initiative – the Convergence Digital Ministry Fellowship Program. The intent of this program
is to respond to 21st century challenges in 21st century ways – to empower leaders who can model what digital ministry could look
like in various contexts, to equip and inspire faith leaders in varying contexts with different technological abilities to take their
necessary next step in digital ministry, and to look forward to where this might be headed rather than perpetually looking back
and wishing we could relive our "glory days" of the past. This article is written by one of our fellows.
I wasn't sure what to think of the chain and padlock on the church's exterior door. I thought it odd, at first. Couldn't the door be secured from the inside? Other doors to the church were being used regularly. And yet this one, located some distance from the church's main entrance, has clearly been rendered inaccessible… no longer in service.
It's as if this door, initially constructed as an access point for those in the faith community, had served its purpose and now has been closed indefinitely. And it has been locked… with a chain and a padlock, making it very clear that no one is to use it again.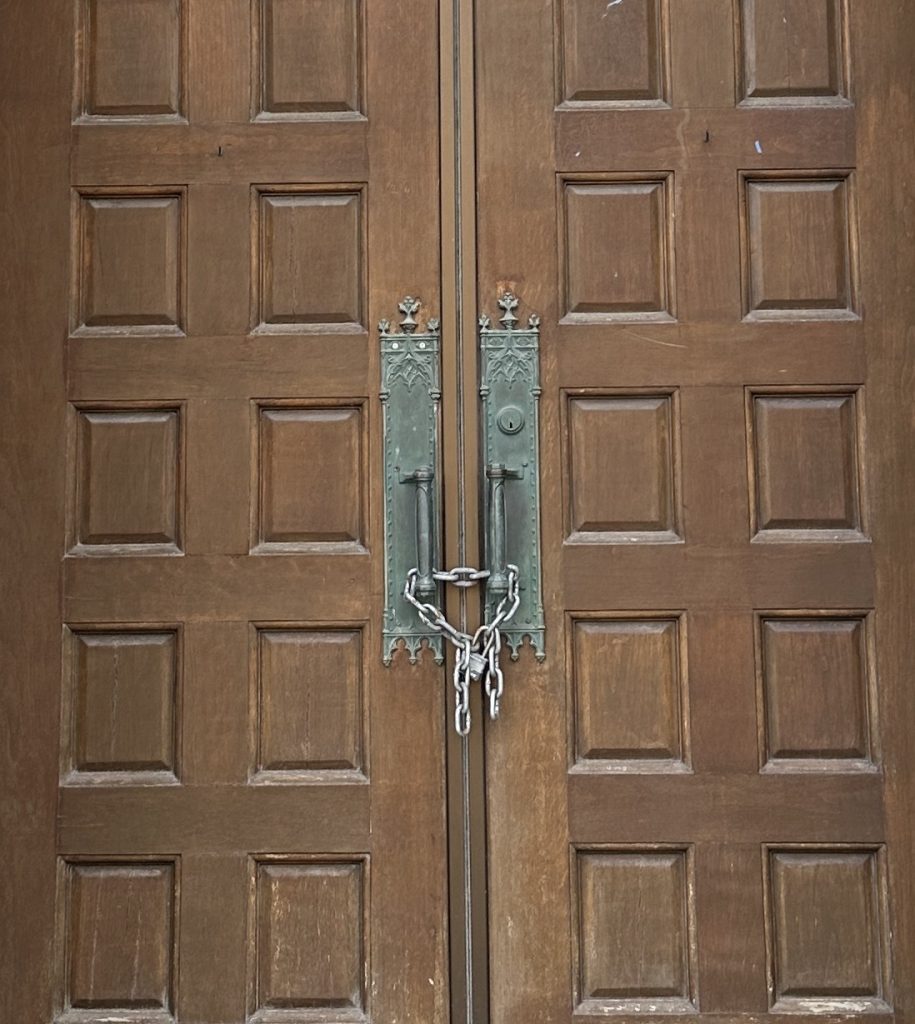 As our faith communities continue to emerge from the COVID-19 pandemic, we are seeing more and more churches make a similar decision to close off one of their access points. Numerous churches that scrambled to take their ministries online in order to keep their faith communities connected have now decided that the online experience was only temporary. It served a purpose for a period of time. And now that time is over. And subsequently, that door has now been closed.
For many faith communities, the work to get their ministries online was hard. And with the ghost of the past years' average worship attendance numbers constantly looking over their shoulders, the online worship experience wasn't providing them with what they had been used to, if not at least what they were hoping for.
So the decision was made to put that experience behind them and get back to the way things were before.
Here's what I fear many faith communities neglected to consider when making the decision to close their online door… there are people on the other side. There are people who were accessing their ministries online and who many never step foot in their brick and mortar structures.
I wonder how many of those who made the decision to close that door did so after consulting with those in their online community?
I wonder how many churches saw the online experience as nothing more than "a necessary evil?" And now that in-person gatherings are back to providing the familiar experiences of the past, there's seemingly no need for it.
And now, those who had been entering into the shared ministries through this online door are forced to look elsewhere.
If you are part of a faith community that has already made this decision, I'm not sure what I can say that will encourage you to reconsider. However, if you've purchased the padlock and chain and have yet to install them, I invite you to take a moment before putting them in place.
Pause to consider the experiences of those who found a connection to your ministries through the gift of technology. Consider what it would mean for them to lose access to the work and ministry you are seeking to share with the world. And then perhaps consider how you might be able to keep that door open for them.
And yes, I know… cultivating online ministry isn't easy for everyone. And it's different. And what we put out over the internet isn't always perfect. And that's okay! It doesn't need to be perfect in order to be meaningful to those on the receiving end.
The truth is, our churches recognized the need to provide an access point during a time when the former ways of showing up were not possible. And that access point allowed our churches to share the gospel much further than ever before. And now, some of us stand ready with the chain and padlock in our hands, contemplating the closure of doors that once bridged the gap between our in-person faith communities and those online.
Let's not rush to fasten these symbolic barriers. Instead, let us embrace the expansive opportunities that digital ministry provides.
And in doing so, may we move forward witnessing our ministries as they touch the lives of those both near and far, allowing the gospel to have a much broader range and impact than we could ever have imagined. And may our doors remain open to the possibilities.
Learn more about the Digital Ministry Fellows.
Contact Rev. Timoth Silvia.