By Rev. Cameron Trimble
My friend Meryl is a weaver. Many nights she sits in her living room weaving beautiful patterns into fabric on her Saori loom. Her favorite pieces are shawls and scarves, stunning in their design and texture. When she wears them, I find myself mesmerized by the absolute artistry and care it must take to create such beautiful pieces. She shrugs it off as if it isn't absolute magic, but I know differently.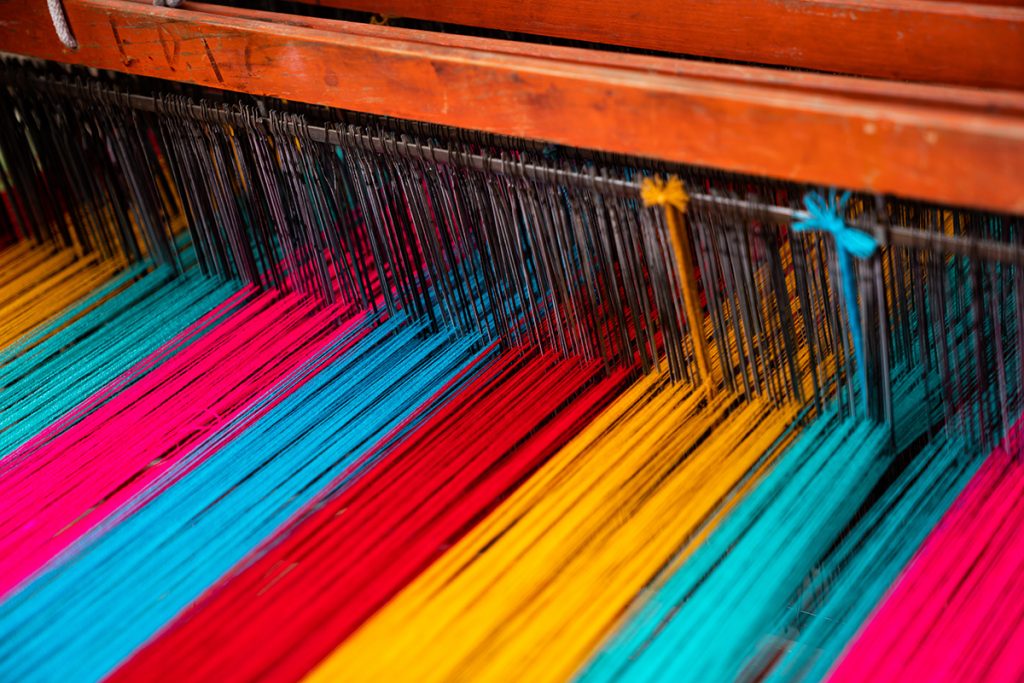 Meryl is also a weaver of human wholeness. Just as she weaves fabrics from yarn with the intuition of an artist, Meryl also understands how to help people like you and me weave new parts of ourselves or reweave parts that have become frayed. She is not a therapist, though she has studied psychology. She is not a religious leader, though she honors the Divine and partners with loving energy when she sees it in the world. She is a coach by profession and a Wisdom Warrior by essence, a dauntless soul who, in her deep listening and generous reflecting with others, finds the pathway for healing and wholeness.
Meryl has taught me a great deal about the weaving of human wholeness and what really matters in this world.
I'm thinking a lot about church on the other side of COVID-19. Soon we will have a vaccine, and we will need to make decisions about how we will organize as congregations and carry out our ministries. Will we "go back to normal?" Or will we realize our mission is more significant than we thought, more essential than we imagined, and will require a new imagination to live it out?
COVID-19 has illuminated our challenges:
Economic hardship and disparity are generating devastating suffering. As those called to care "for the least of these," we must care about people in our communities who do not have enough food, rent, heat, friendship, medicine, and support. If the people in our communities are not thriving, we all suffer. What shall we do? Use our resources – our buildings, staff, volunteers, lawyers, doctors, teachers, drivers, policymakers, and money – to address human suffering in all its forms. Much has been given to us, and much is expected. COVID-19 has taught us that we can do so much with very little. My prayer is that we invest in our communities with a level of generosity never seen before. 
Many people may not come back to Sunday morning services. In fact, I would plan on your attendance dropping by at least half of what it was before COVID in many places. That's ok, but it will require a new imagination about what sustainable ministry looks like going forward. Online church is here to stay. Sunday morning is not the end-all and be-all. Now you can be a seven day a week church, a community unleashed in the world to reweave the generative relationships that hold us together as neighbors and friends. If you need help figuring out what that looks like, let us know. 
Belonging is being redefined beyond membership. Given that we can now participate in seemingly countless ways, membership is a less useful concept to describe how one belongs to a community. It's helpful only in describing governance and voting. It's less meaningful as a descriptor of the scale of people aligned around your church's mission. Words like "participants," "partners," and "investors" may prove more productive.
We will need new organizational and staffing structures. Most churches were staffed for a time that is not coming back. We will need to reimagine our staffing needs, capacities, and goals. For many, this will not lead to massive layoffs but rather a redefinition of roles that more authentically aligns with the work to be done. 
I often tell the story of a lecture I heard by a sociologist named Margaret Wheatley. After studying human behavior and emergence theory, she concluded that today's world is functioning like a centrifuge. It is separating particles intended to be together, separating them by the force of speed. She says that the crisis of our age with globalization and technology is that the relational fabric of our communities is being torn apart by our pace of development. In the face of financial meltdown, climate breakdown, COVID lockdown, racial throwdown, and political letdown, we are losing ourselves and each other. 
That is undoubtedly deeply concerning to God. 
What if the single most important focus we have as people of faith is to reweave our communities' relational fabric? What if, like Meryl with her loom, we are weavers of healing, wholeness, and justice? If that was our calling, what tools, rituals, spaces, staffing, and resources would we need? You see, I believe this changes everything.
I've never been more excited about the future of the church. It might be that this time of pandemic generates the most fruitful reimagining of the church we have seen in 500 years. The days ahead will not be easy for many churches and leaders. We will face heartbreaking decisions even as we imagine a new future. I am convinced that our mission is clear. God is with us, teaching us to reweave a world of generosity, justice, and love once more.